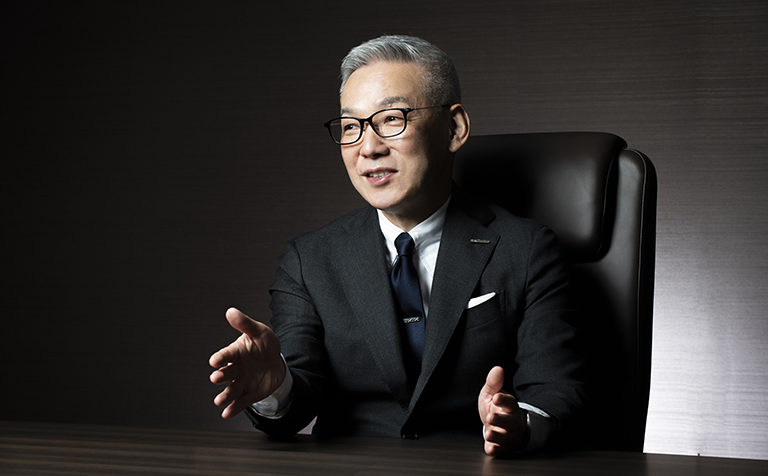 Commitment handed down to the pioneer of automated packaging machines-The background behind the ongoing innovation
Category:

COLUMN

Date:

Sep.14.2020
Interview with CEO, Mr. Akira Isosaka
Changes in distribution made by the birth of packaging machines
When talking about packaging, I may need to talk about a major turning point for distribution.
Nowadays, all kinds of products have been packaged, and it has become a matter of course to get all kinds of products around the world at any time, but until just 80 years ago, there was no existence of packaging itself. In the age when there was no technology to package products, we were unable to carry goods to a distance.
It may be easier to understand if we imagine a confectionery shop or department store, but it was not normal for the world to sell products directly. However, that common sense has changed dramatically with the appearance of "packaging machines" and "supermarkets."
In this turbulent era, KAWASHIMA was the first company in Japan to start the manufacturing of automatic packaging machines.
"Packaging technology has changed the world dramatically"
While believing in such an uncertain future, we continued to face the development of technologies that everyone never realized. Because of this experience,
I feel that we have hold the pioneer spirit, since its founding
Here is the history of the KAWASHIMA (link to the company profile and history page)
Creating New Packaging Value
Due to this pioneering spirit, KAWASHIMA has achieved slightly different growth.

For example, when we are asked to manufacture packaging machines that uses unprecedented technologies, it is general to to make internal discussion. However, at the time of its establishment, KAWASHIMA had received a request stating, "We do not know if it can be done, but we will….!" It may not be possible now, but such a vigorous style might have been a factor in the creation of innovation.

For example, one of the technologies developed by KAWASHIMA, using our own technology, is "overwrapping" which is not an imitation of foreign machines.
(For the overwrapping machine, please go here.)
At that time, there was no technology for packaging delicate and fragile products such as Japanese confectionery. Young designers continued to take on the challenge of how they could beautifully wrap soft, delicate products and increase productivity, and the technology of "overwrapping" was completed after various trials and errors.
A packaging machine was completed to dramatically improve the Japanese confectionery culture of serving tea and sweets providing hospitality.
We have been able to wrap sweets in large quantities that are neater and faster than those previously wrapped carefully by hands, allowing a variety of people to enjoy sweets.
Not only did it add value in terms of design, but it also helped people enjoy the sense of the season through the wrapping paper, sometimes working as dishes of powdery sweets, and I think it was a great contribution for people to enjoy the sweets even more.
We have continued to develop our own packaging form with flexible philosophy and enthusiasm in response to continuous requests from customers. And the number exceeds 300 types.
KAWASHIMA's packaging machine lineup includes vertical packing machine and horizontal packing machine, not just overwrapping machines (product information pages are linked)

How innovations are created
Innovative ideas are by no means all spectacular.
When we challenged new technologies, there were many cases in which the machine did not work properly and the packaging did not come to the desired level. When I was a new employee, the packaging machine I was in charge of was unable to provide stable packaging at the customer's factory, and I had the experience of being thrown products that were judged to be defective.
At this time, I was taught that I should never create anything that gives our customers dissatisfaction.
If we continue to rely on existing technologies, I think that we will hardly encounter failures or difficulties.
However, I want to always be a pioneer without being trapped in the past.
And I want our customers to be very happy.
That is the key to create innovative technologies at KAWASHIMA.
That is why in 2019 we once again expressed our corporate message "Beyond Expectations." We are communicating both inside and outside of the company that it is our mission to continue facing packaging without compromise. The pioneering spirit of our long history may be the key to our longstanding relationship with a diverse range of customers.
Explaining our philosophy as a leading company in the packaging machine industry (link to TOP messages)
Innovation can be realized by "Beyond Expectations"
We want to make things that no one has ever made.
When you think so, how many companies can really realize that?
In modern times, it is surprisingly simple to create a similar product of innovative goods.
However, there is no accumulation of experience or identity to create new things for them.
KAWASHIMA has a field where we have continued to create innovations.
That's why I think we can create new innovations in the world of packaging.
From grocery to supermarket and to convenience stores.
Distribution has been changing significantly over a short span.
At the same time, packaging technologies are changing rapidly too.
In such a modern age, we will continue to propose innovative packaging machines that meet the needs of our customers.
I would like to continue to embody such an identity.
Possibility of packaging created by innovative technology at KAWASHIMA/Future diagram drawn by employees (link to vision map page)