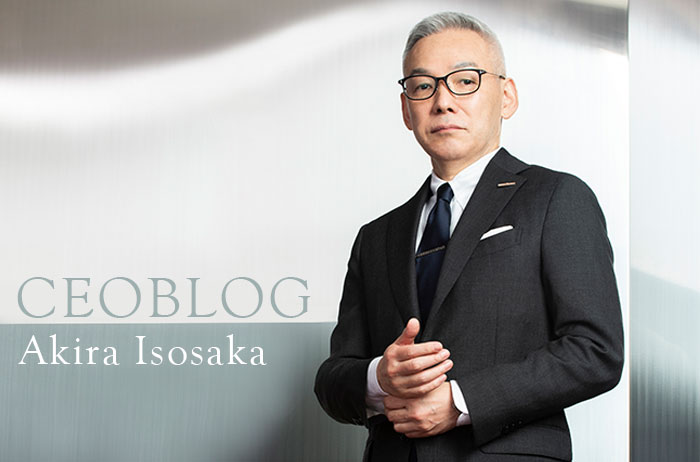 [CEO Blog] Going beyond the packaging machine manufacturer
Category:

COLUMN

Date:

Dec.16.2020
Going beyond the packaging machine manufacturer
Thank you for viewing the CEO Blog.
I am Akira Isosaka, CEO of Kawashima Packaging Machinery Ltd..
I would like to briefly introduce KAWASHIMA first. 
 (For details, please refer to the "ABOUT US" and other pages.)
Founded in 1912, we are a pioneer in packaging machines, which automatically pack food, drug, and other products.
For example, if you have seen snacks, frozen foods, or rice balls in a convenience store or a supermarket, you probably have seen the products which we are involved in.
KAWASHIMA's packaging machines are used in the production lines for those products.
I intend to turn KAWASHIMA into a "company that does not just fit in the frame of packaging machine manufacturers" in the future.
When you hear "Machine manufacturer", what kind of image do you think of? Probably, many people have a masculine image.
I feel that actually until now, men have been the main players in the industry.
However, we cannot cope with the changes in the times if we are confined by such fixed concepts.
Our aim is to be a company that enables people with a variety of background, regardless of gender or age, to work with their individuality, and that wide variety of perspectives can be incorporated into product development and services.
Since I became CEO in 2016, the number of female employees has been increasing year by year, and we are also recruiting the employees of foreign nationality.
We will keep on increasing the percentage of female and foreign nationality employees.
From "Small neighborhood factory" to "Leading company"
We will keep on changing not only the composition of the employees, but the environment in which they work.
Measures that have already been implemented including office uniform and factory uniform.
We are developing and introducing uniforms with stylish designs while ensuring functionality, which in a favorable sense violates the image of a machine manufacturer.
We also intend to design this website so that people can visually imagine that KAWASHIMA is a manufacturer with such a vision.
Changing the world and the future of our colleagues with manufacturing
And since we are naturally a manufacturer, such changes in the internal environment and working styles are not an objective but a step.
The final goal is to "change the world by manufacturing".
Furthermore, we will change the future of all of our colleagues.
I believe that it is now at the stage of preparing the necessary environment for that purpose.
Although it may seem a little overstated for packaging machine manufacturer to set the goal of "changing the world", I seriously have the vision.
No matter how good your engines are, you cannot run by just the engine.
A variety of parts will be included around it to make it a car.
Similarly, if you sell the product face-to-face, you can manage it with just the product itself.
However, it can only be possible with the fine packaging to mass-produce the food and drug and to spread it nationwide safely.
In addition, no matter how excellent the packaging is, there is a limit to the production volume by hand work.
The presence of packaging machines is indispensable for the convenience of a modern society where confectionery produced at a factory in Hokkaido can be obtained in Okinawa.
In recent years, there has been a growing demand for environmental protection, such as the simplification of packaging and the shift from plastic bags to paper bags.
Packaging machine manufacturers are in a position that is largely related to such environmental problems.
Although it is confectionery manufacturer who makes a decision to "change the plastic package into paper," it will be difficult to realize if a packaging machine manufacturer like us cannot prepare a machine that can respond to their request.
Considering this way, don't you think even the work of a packaging machine manufacturer could change the world? I really believe that there is a revolution that can be done only by the packaging machine manufacturer.
Breaking the frame of recruitment.
The growth that would be considered on the extension of the conventional method is not enough to change the world by manufacturing.
I think there needs to be more drastic changes.
Specifically, we need to change the recruitment significantly.
We hope that KAWASHIMA will be chosen by those who are looking for companies that can realize the dreams of not only to "work in the machine manufacturer and to learn about the machine technologies" but also to "change the world through the work".
There are mainly two points which are required for this.
First, we must be a company that can truly pursue the dream of "changing the world" in the same way, and must be able to push all employees with such dreams with full power.
We are currently working on it to improve the environment.
Second, KAWASHIMA must be known to the people who are thinking about employment and job change that we are a "company trying to change the world by manufacturing".
Unfortunately, there are not so many people who know us at the moment.
Even if you are familiar with us, you probably won't think that the CEO of a machine manufacturer "wants to change the world" or "wants to make a revolution".
Therefore, I am working on how to inform the presence of KAWASHIMA and it's goal to many people.
One of the attempts is writing a book.
I hope that our efforts and the vision of the future will be known with this column and the CEO blog contained in that book.
I joined KAWASHIMA as a new graduate and have worked for several decades, and now is the most exciting time for me.
We seriously aim to be a company that can take on enjoyable challenges which will not be behind to any large company.
One of the goals of this CEO Blog is to add KAWASHIMA to the choice for those who are considering their job. Those who have read it so far and thought that we are an exciting company.
I would also like to provide work tips to those who are currently working in society.
I would happy if you could also have interest in the book scheduled to be published in April 2021 from Cross Media Publishing as well.